10th CS-Media Forum; Overcoming the Effect of Maternal Health during Recession in Nigeria organized by Development Communications Network, MacArthur Foundation
Tuesday, December 13, 2016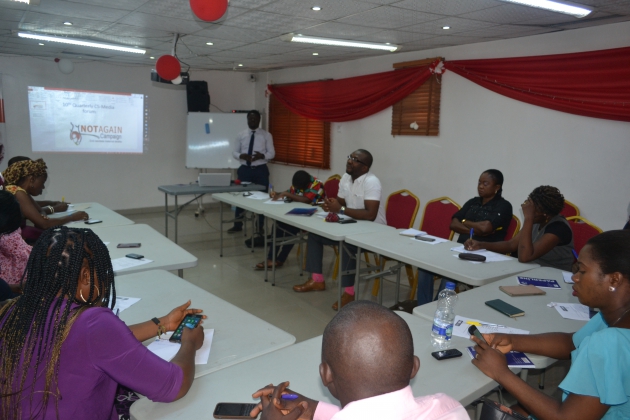 The 10th quarterly CS-Media Forum organized by Development Communications Network, DEVCOMS, and MacArthur Foundation was designed to bring together the health writers, reporters and Civil Societies Organizations to address the effect of Recession on maternal health in Nigeria.
 
Key facilitators at the event was the President of the National Association of Resident Doctors, LUTH Chapter, Dr Afolabi Akinkunmi, who advocated for proactive measures and plans to help reduce the high rate of maternal mortality especially during this current economic hardship witnessed in Nigeria.
 
Dr Akunkunmi stated that the country's maternal death rate has been affected by the economic downturn as delays in healthcare services further increases the preventable deaths of mothers and infants.
 
To help in reducing the deaths of mothers, he said increased funding of health centres, motivation of health workers, free medical services for low and middle income earners, counseling centres for adolescents are considerations worth taken by the authorities.
 
He also asserted the importance of sensitisation can also not be over-emphasised; advocacy and enlightenment campaigns should be continuous, especially in the rural and semi-urban areas, to highlight the importance of accessing healthcare services.
 
He requested that the participants use their medium to sensitize the need for pregnant women to patronize only registered maternity centres and hospitals headed by qualified personnel, adhere to medical advices given on nutrition to prevent complication during and after pregnancy.