Exclusive breastfeeding averts childhood deaths — UNICEF
Wednesday, February 1, 2017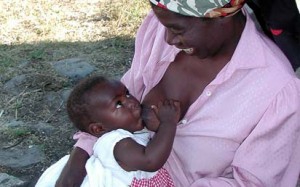 Mrs Ada Ezeogu, a Nutrition Specialist with United Nations Children's Fund (UNICEF), said on Wednesday that 13 percent of death among children could be averted if mothers embark on exclusive breastfeeding.
 
Ezeogu made the assertion in Igbara Oke, Ondo state during a five-day workshop organised by Ondo State Ministry of Information in collaboration with UNICEF on "Production of Radio Scripts on Facts For Life'.
 
He said that children that were well breastfed had six times greater chances of survival in the early months than children not well breastfed.
 
"An exclusively breastfed child is 14 times less likely to die in the first six months than the non-breastfed child.
 
"Breastfeeding drastically reduces deaths from acute respiratory infection and diarrhoea, the two major child killers.
 
Read more at http://thenationonlineng.net/exclusive-breastfeeding-averts-13-childhood...