#FPFriday: Understanding Youth Attitude to Family Planning
Tuesday, September 12, 2023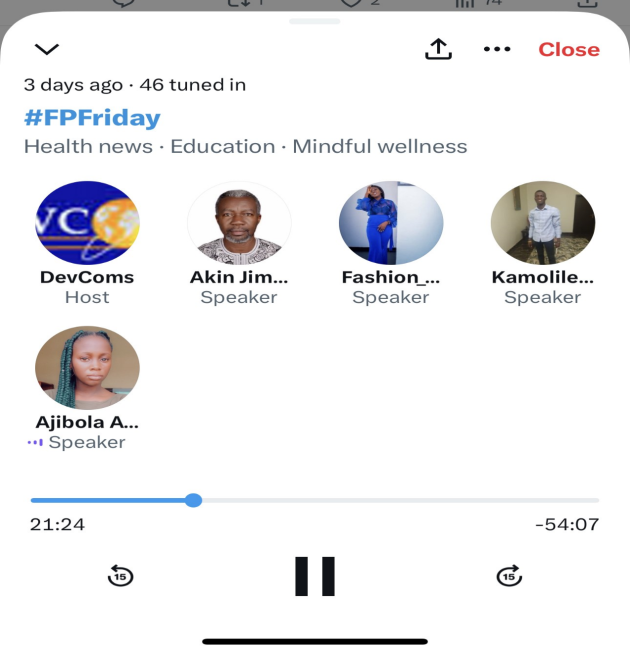 In a groundbreaking virtual discussion hosted by the Development Communications (DevComs) Network under its monthly program #FPFriday titled "Understanding Youth Attitudes to Family Planning" which is a significant step in addressing crucial issues related to family planning among younger populations in the country. This informative session brought together experts, advocates, and youths' voices to shed more light on the topic of discussion.
In her opening remark, the event moderator, Asalu Ibukun, said the twitter space is to explore how to change the perspective and the belief of young people and what they think about family planning method as well as their willingness to embrace family planning.
Highlights from the twitter Space event:
Youth-Centric Approach: DevComs emphasized the importance of adopting a youth-centric approach to family planning and that involving young people in decision-making processes is key to understanding their needs and concerns.
Data-Driven Insights: Presenters Mr Kamaldeen Ibrahim shared insightful statistics and data on youth attitudes toward family planning, revealing trends and approaches. This data-driven approach will help tailor interventions to specific age groups.
Education and Awareness: the critical intervention and need for comprehensive sex education in schools and the importance of raising awareness about family planning options, contraception, and reproductive health was reiterated by Kamaldeen.
Empowerment through Technology: the discussions highlighting the role of technology and soci al media in reaching and engaging young people effectively
Addressing Stigma: The Twitter Space emphasized the need to combat societal stigma surrounding family planning choices and encouraged a more open and accepting approach.
Youth Voices: Young participants were given a platform to share their personal experiences, questions and challenges they are faced with when it comes to contraceptives use and family planning decisions.
The Twitter Space event emphasized DevComs dedication to fostering informed, empowered, and healthy youth populations. By understanding youth attitudes towards family planning, we move closer to a world where every young person can make choices that are best for their well-being and future.
,Advocate ,
You can click https://twitter.com/i/spaces/1LyGBqWonWaKN?s=20 to listen to the Twitter Spaces if you missed it.