Nigeria Health Watch announces 2nd Prevent Epidemics Journalism Fellowship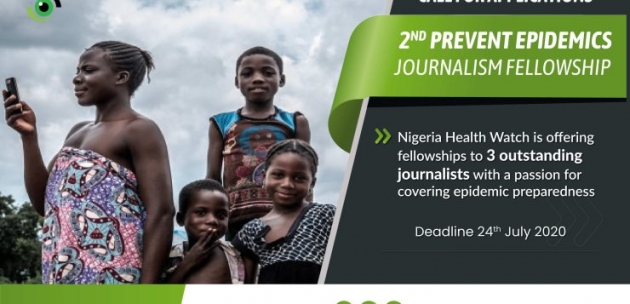 Nigeria Health Watch has announced a call for applications for the 2nd Prevent Epidemics Journalism Fellowship.
Nigeria Health Watch will award three fellowships to outstanding journalists with a passion for covering epidemic preparedness. Fellows will receive financial support for the 3-month period, to complete their reporting, as well as continued coaching and support accessing national and international data and contacts, among other benefits.
To apply, please use any of the themes below to propose 2 story ideas you will focus on during the fellowship:
The current state of Nigeria's funding for epidemic preparedness
The economic cost of not providing adequate funding for epidemic preparedness
Existing gaps in current funding pattern for epidemic preparedness.
How lack of sustained funding of Nigeria's public health institutes make infectious disease outbreaks catastrophic.
Duration
3-month programme (Fellowship will run from August 2020 to October 2020)
Eligibility Criteria
The Fellowship is open to journalists affiliated with mainstream, print and online media in Nigeria.
Expectations
Fellows will be expected to participate in all scheduled activities.
Fellows will be expected to publish, in their affiliated media (Print, TV, Radio, Online), at least 3 stories – with 1 in long form.
Fellows will be expected to continue to provide coverage to the prevent epidemics project after their fellowship.
For more information, visit https://nigeriahealthwatch.com/call-for-applications-2nd-prevent-epidemics-journalism-fellowship/#.XwcBRmYza00