Nigeria rolls out strategies to boost maternal, child health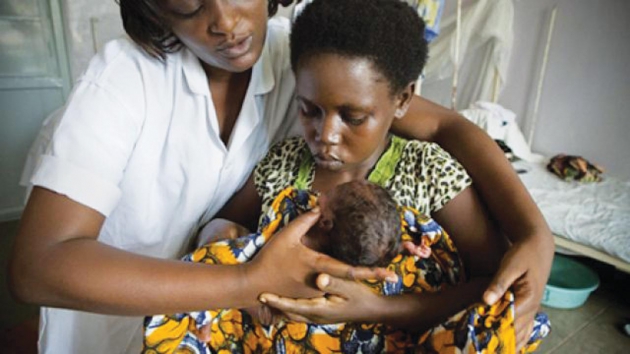 The Federal Government through the National Primary Health Care Development Agency (NPHCDA) has rolled out four new strategies to boost polio eradication drive, strengthen routine immunization and ensure revitalization of primary health care centres in the country.
 
To this end, the Federal Government through the Federal Ministry of Health (FMoH) has signed an agreement with the European Union for a €70 million grant targeted at improving maternal, newborn and child health, strengthening Nigeria's health system and supporting ongoing efforts to eradicate polio.
 
According to the Global Polio Eradication Initiative (GPEI) website, fifty million euro of the grant aims to ensure that by 2020, Adamawa, Bauchi and Kebbi states of Nigeria have functional primary health care centres, providing round-the-clock services to three million children under the age of five years as well as to almost a million pregnant women and lactating mothers.
 
Executive Director and Chief Executive of NPHCDA, Dr. Faisal Shuaib, yesterday, while receiving the new World Health Organisation (WHO) Country Representative in Nigeria, Dr. Alemu Wondi, outlined a four-point agenda of his administration.
 
"They are repositioning the Agency with a culture of zero tolerance to corruption and efficient service delivery, concluding polio eradication, strengthening routine immunization and ensuring the success of Primary Health Care Revitalisation in Nigeria," he said.
 
Faisal explained that President Muhammadu Buhari and the Minister of Health, Prof. Isaac Adewole had both provided him required enabling environment for a transparent, accountable and result-oriented leadership that would enable him work with his team to restore partners' confidence in the Agency.
 
He recalled donors' dismay on the Agency's management of donors' funds in the past and assured the WHO Country Representative of his renewed commitment to change the narrative by engendering of transparency, accountability and probity.
 
While assuring management and staff of the Agency of his commitment to reward excellence, Dr. Faisal however warned that any official found wanting in the discharge of his or her duties would be made to face the disciplinary provisions of civil service rules and regulations.
 
Read more at https://guardian.ng/features/nigeria-rolls-out-strategies-to-boost-mater...