NOTAGAIN Campaign Media Team Visit Ibeshe and Ilashe Communities
Tuesday, December 22, 2015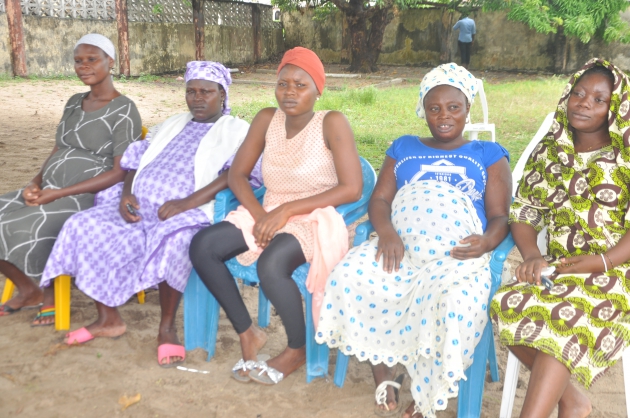 As part of our NOTAGAIN Campaign project aimed at ending maternal deaths in Nigeria, we embarked on field visit with journalists from Print, Radio and Television to enable them have hands-on information on the experiences of women and children at the grassroots.
 
The visits were made to two riverine communities in Ibeshe Ward in Oriade LCDA, namely Ibeshe and Ilashe. As at the time of visit in December 2015, NOTAGAIN Campaign media team observed that the Primary Health Centre serving Ibeshe, Ibasa, Imore, Ilashe, Igbo-osun, Igbo-Eseyere and Okun-Ilashe and other riverine communities in Ibeshe Ward is located in Ibeshe community.
 
The Primary Health Centre (PHC) located in Ibeshe is a dilapidated structure with shortage of manpower, commodities and drugs, water supply and other necessary facilities.
 
The borehole installed is not functioning, thus the only source of water in the PHC is an old well in the compound with murky water. At the time of visit, there was one nurse, a ward aide and a gardener on duty.
 
Pregnant women in Ibeshe and neighbouring communities have reportedly abandoned the PHC because of the poor state of the facility, saying they prefer to patronise Traditional Birth Attendants, TBAs.
 
Access to the maternal and child health services at the PHC in Ibeshe by neighbouring riverine communities is difficult due to reasons relating to distance, cost of travel and availability of health professional. For instance, residents of Ilashe community have to travel about 30 minutes by boat to access the PHC in Ibeshe. Other neighbouring communities have to travel longer distance.
 
Pregnant women also complain that they cannot afford the cost of travel by boat which ranges from N700 to N1, 000 for one-way trip. Residents of the communities said they have not had electricity supply for the past seven years.
 
Ibeshe residents are calling on the government to equip the existing primary health centre to standard as the facility is faced with shortage of manpower, essential drugs and commodities that is befitting of a Primary Health Centre. Ilashe indigenes are calling for the establishment of a health facility (health post) in their community to ease the burden of having to travel far to access health care.
 
On behalf of the residents of the riverine communities of Ibeshe Ward, we hereby appeal to thegovernment of Lagos State, through Ori-Ade Local Council Development Agency, to give heed to the yearnings of the residents of the riverine communities in Ibeshe Ward by upgrading the existing health facility at Ibeshe to the standard recommended by NPHCDA for quality, accessible, affordable, effective and efficient health care service delivery so as to improve the health and quality of lives of the women, children and the people in general.
 
We commend the efforts of the government towards delivery of quality maternal and child care services across the State. We hope that the kind gesture will be extended to Ibeshe Ward.