In search of healthcare, Igbologun pregnant women risk their lives at sea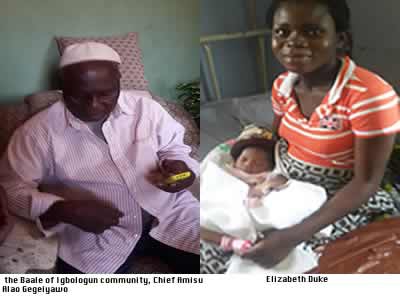 Igbologun is one of the riverine communities in Amowo-Odofin Local Government Area, Lagos, where pregnant women and children pay stiff price to stay alive, although maternal services are free in Lagos State.
This island community also known as Snake Island, with over twenty thousand people, largely child bearing women and children, has only one poorly functioning Primary Health Centre (PHC), which is not patronized for maternal services.
National Mirror  correspondent discovered that the PHC- Igbologun Maternity Centre, has no doctor, while the nurse in charge is not always on ground. As at the time of visit, the only person at the PHC was a health assistant who identified herself as Aminat Ogungbemi. Without any patient on ground, Madam Aminat sat idly at the courtyard looking bored.
The Correspondent, who spoke with the Baale of Igbologun community, Chief Amisu Alao Gegeiyawo, as well as other community members, found out that no woman has given birth at the facility in over 10 years.
While the gate to the PHC remained shut, a private clinic – Igbologun Medical Centre, is saving the lives of many pregnant women and children with severe health complications. But they have to pay a high price for this.
At the Private hospital, 20 year old Elizabeth Duke is lucky she and her baby are alive today. Elizabeth told National Mirror that she was brought to the facility through the sea, early in the morning, around 4 am, after two days of labour. She had first gone to some local healers because there was no doctor at the PHC. When they could not handle her case, she was thereafter brought to the private hospital where she finally delivered through Caesarian Operation.
"I had to undertake about 30 minutes boat drive that night from my community – Sabokoji before I finally arrived at the Medical Centre. I was in excruciating pain, I didn't know I could survive the journey. I almost died at sea", she recalled.
According to the Medical Director of Igbologun Medical Centre- Dr. Gbolahan Sodipo, Elizabeth had obstructed labour. "I never knew the baby would survive. When she came here, her case was serious, I had to struggle to save her life first but I was surprised that she and the baby survived, although the baby had jaundice, he came out fine", the doctor said.
Like Elizabeth, another patient, Charity Felix, had also escaped a life threatening complication following a prolonged labour. Charity, 32 years, also from Sabokoji community, is lucky to deliver her third baby alive through Caeserian.
Dr. Sodipo, explained that Charity was brought to the clinic around 2am by a traditional birth attendant where she had gone to give birth. With tears in her eyes Charity explained why she risked her life first at the TBA and then on a perilous sea journey at night during her labour, "there is no doctor at the PHC where I stay, only one nurse. I am just a housewife and my husband has no money. I didn't know I could survive this labour".
However, both Charity and Elizabeth must remain in the hospital until their husbands are able to pay the N160, 000 each for the CS.
Despite the huge bill that they have to pay at the hospital, these women are happy because of the quality of care received.
Read more at http://nationalmirroronline.net/new/in-search-of-healthcare-igbologun-pr...