Nigeria needs $912m to fight malnutrition – Expert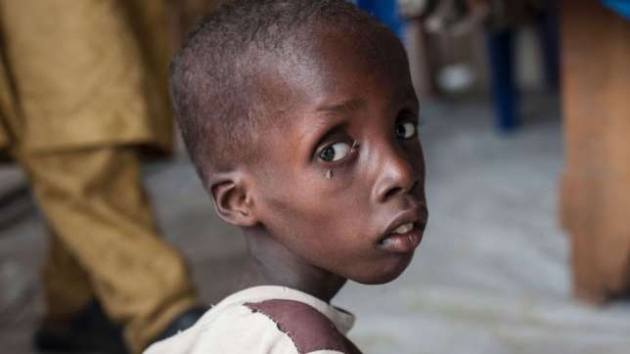 Nigeria needs $912 million to tackle the scourge of child malnutrition which is presently ravaging the country.
 
Dr. Chris Osa Isokpunwu of the Federal Ministry of Health, Abuja, disclosed this at a two-day Media Dialogue on "Leveraging Resources for Child Malnutrition in Nigeria" held on Thursday and Friday, April 28 and 29, 2017, in Enugu.
 
Dr. Isokpunwu, who spoke on "Scaling Up Nutrition in Nigeria: What Will It Cost?", described child malnutrition as a major challenge in the country. He lamented that there are currently about 2.5 million severely malnourished children in the country.
 
The medical expert quoted Federal Ministry of Health figures as showing that not less than $912 million is required to tackle child malnutrition in the country over the next five years if the problem is not to get worse.
 
 
Painting a graphic picture of the crisis, he pointed out that the national budget provided only N2.4 million for child nutrition in 2016, while nothing was provided in the 2015 budget and N30 million was provided in 2014 but was not released.
 
Dr. Isokpunwu noted that the budget for child nutrition was created for the first time in Nigeria in 2014, describing child malnutrition as "a silent killer which has to be stopped" in view of its devastating consequences.
 
In her paper entitled "Child Nutrition Situation in South-East and South-South Zones of Nigeria", Ngozi Onuora, Nutrition Specialist at the Port Harcourt office of the United Nations Children's Fund (UNICEF), lamented that every single day, Nigeria loses about 2,300 under-five-year-olds and 145 women of childbearing age as a result of malnutrition. This, she said, makes the country the second largest contributor to the under-five and maternal mortality rate in the world.
 
According to Onuora, there are multiple dimensions of child malnutrition which can co-exist in individuals, households and populations, including stunting, wasting, micronutrients deficiencies, overweight and obesity. "These are all manifestation of under-nutrition," she said.
 
Statistics provided at the Media Dialogue by nutrition experts showed that malnutrition, though a national problem, is much worse in the North.
 
The statistics showed that the total number of children affected by malnutrition in the South-East in 2016 was 34,889 while 6,700 deaths were recorded. In the South-South, 86,304 children were affected, out of which 16,700 died, while the South-West had 84,417 cases and 16,300 deaths; North-West 1,594,462 cases and 308,000 deaths; North-Central 43,635 cases with 8,400 deaths; and North-East 695,998 cases and 134,000 deaths.
 
Malnutrition not only contributes to close to 50 percent of deaths in children under five, but also results in a massive cost for the nation. Nigeria loses over $1.5 billion in GDP annually to vitamin and mineral deficiencies, according to the World Bank.
 
Read more at http://newmail-ng.com/nigeria-needs-912m-to-fight-malnutrition-expert/